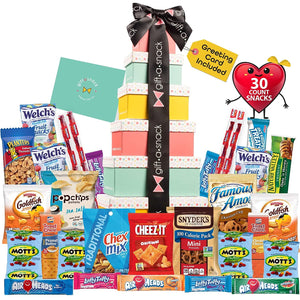 Tower Snack Box Variety Pack Care Package (40 Count)
Regular price
$30.95
$0.00
Unit price
per
Gift-a-snack brings you the best selection of America's favorite snacks in our Snack Tower.
Our snacks come in an high-end 6-floor tower. Want to know exactly what's inside our delicious Snack Tower? Take a look at these delicious snacks:- Airheads Candy - Austin Animal Crackers - Cheez-It Original - Cheez-It White Cheddar - Chex Mix - Amos Chocolate Cookies - Laffy Taffy -Lance Cheddar Cheese Crackers -Lance Peanut Butter -Nature Valley - Nutrigoz Bar -Oreos - Pep Farm Goldfish - Popchips - Rice Krispies - Skinny Pop - Twizzlers -Welch's Fruit Snacks - There are 40 snacks in this tower! We know what really counts is what's on the inside. But let's be honest, we do care about the outside as well, right? Well, our snacks come in high-end packaging! - 🎁 6 Secure and durable cardboard boxes. - 🎁 High-end sophisticated design. - 🎁 Wrapped with a high-end Black Ribbon."And what about your story", you may ask. So… Gift-a-snack is a company based in New York cofounded 2015 by Lewis Cooper and his wife, Lindsay. The Cooper's founded Gift-a-snack with the idea of mixing the two things they were most passionate about: travelling the world, and snacking. Lewis, our CEO, claims "when you travel as much and often as we do, snacking becomes a great part of your life". Today, Gift-a-snack commitment to our consumers is to deliver the best and most delicious snacks in the market.
🥜 AMERICA'S FAVORITE SNACKS: Our tower is filled with 40 bags of America's favorite snacks such as Airheads Candy, Austin Animal Crackers, Cheez-It Original, Cheez-It White Cheddar, Chex Mix, Nature Valley, Oreos, Pep Farm Goldfish, Popchips, Rice Krispies, Skinny Pop, Twizzlers, Welch's Fruit Snacks, and much more!
🎁 6 PRESENTS IN 1: Think about it, who wouldn't want to receive a tower of presents? Our Snack Towers have six levels of boxes of the best savory and sweet mix of snacks there is.
⭐ TOP 'NUTCH' PACKAGING WITH HIGH-END RIBBON: High-end packaging and a unique and sophisticated design, including a high-end black ribbon that will definitely impress your gift recipient.
🛍️ AN AFFORDABLE BUT ELEGANT PRESENT: Buying presents is usually pretty stressful. When you think you've found the perfect gift, it's expensive. When you find an affordable one, you don't like it as much. Lucky for you our snack towers are both high-end and affordable, exactly what you were looking for!
⚠️ HONESTY IS OUR MAIN VALUE: Due to supply chain issues, it's possible that some of the snacks in this box might have to be replaced for other snacks of similar or more value.
---
Share this Product
---